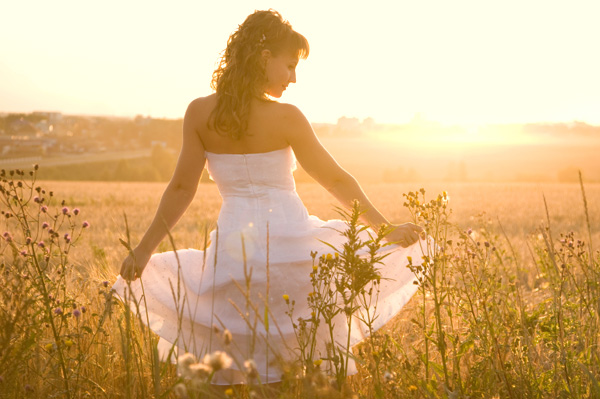 If you want to make your environmental conscience central to your big day plans, there are all sorts of ways to have an eco-friendly wedding day. Read on for ten top tips to achieving the perfect environmentally-friendly nuptials.
Email invitations
Rather than sending out traditional invitations, think about asking your guests to attend your wedding day celebration by email. It may be unorthodox, but inviting guests electronically is more eco-friendly than using paper and card, which also involves the use of vans via the postal service and contributes to higher emission levels.
Encourage car-sharing
If you're inviting guests from similar areas, see if you can organise a car-sharing scheme that will mean several people can travel to the venue in the same vehicle. As an alternative, you could arrange some mass transport that will pick guests up and take them to the location, such as hiring a minibus. An increasingly popular way of ferrying guests between venues is by vintage bus, so this might be something you want to consider for a quirky means of transport.
Look for sustainable favours – or make your own
Table favours can be anything you like, so consider what your guests will be able to use that is either long-lasting or recyclable. Pot plants can be attractive, and the pots can be reused, while homemade items like jars of jam can be cost-effective favours that guests can either reuse once the pot is empty or recycle along with other household glass goods.
Use locally-sourced ingredients
When planning your wedding breakfast, look at your choices in terms of dishes that can be locally-sourced. This will mean fewer emissions being pumped into the atmosphere when compared with ingredients sourced from all over the globe and transported to the venue.
Shop for second-hand goods
Instead of purchasing brand-new items, take a look through charity shops and dress agencies to pick up second-hand goods, which removes the transport element of shipping goods and thus is kinder to the environment – and potentially to your wallet! From your wedding dress and bridesmaids gowns to centrepieces for the tables, you'll find all sorts of useful items if you spend some time scouring local thrift shops.
Choose the right venue
When looking for a wedding venue, pick out locations that have eco-friendly principles or that use alternative methods of energy generation, such as solar or water power. A rustic wedding barn that uses minimal lighting might be a good option, and you can always add a little extra light of your own with some strings of fairy lights, for example.
Opt for an organic cake
Choose a cake maker that is local to reduce emissions from transporting the cake, and make sure that the baker uses organic and locally-sourced ingredients to produce their creations.
Keep things in one place
Instead of choosing to have your wedding ceremony in one venue and the reception or evening party in another location, look at venues that offer package deals and are licensed for both elements of your big day. This will remove the need for transport between locations and could also potentially save you some money if you ask for a discount for using both services.
Arrive in style
You may have arranged some mass transport for your guests, but it's customary for the bride to arrive at the venue separately, so think about hiring an eco-friendly and traditional horse and carriage to take you to and from the venue.
Invest in natural confetti
Traditional confetti is made from paper, but modern alternatives are available in the form of dried flower petals, which are 100 per cent biodegradable. You'll find a wide range of natural colours to choose from and have the peace of mind that the petals will biodegrade in just a few days, compared with paper, which can take a few weeks to break down in landfill.